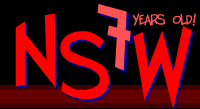 Nobama 6, 2012 - I mean, noVEMBER. Sorry.









;_; 2sad4me wah wah wahhh
Thanks to FBSearch.us, the Team America soundtrack, Google Images, and the Obama-hatin' good people of 'Murrica on Facebook.
This video is also on Youtube (if it hasn't been removed for being 2MEAN) for easy sharing!



No money? Votes for this site are good as gold!


(C)2012, 2011, 2010, 2009, 2008, 2007, 2006, 2005 NSFW Comix LTD.