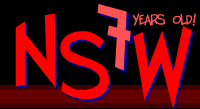 October 31, 2012 - Warning: May Be 2Spooky 4u













Ahh, Halloween. A time for cosplay, scaring people, and scaring people with cosplay. And if you're lucky, candy.
Note that My Little Pony: Friendship With Benefits Is Magic is still in production, and this comic is but a warm-up for the kind of horrors that await you, Dear Viewer.



No money? Votes for this site are good as gold!


(C)2012, 2011, 2010, 2009, 2008, 2007, 2006, 2005 NSFW Comix LTD.