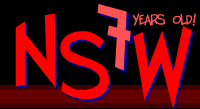 September 1, 2012 - Plight of the Pervert










"pornswoggle" - [pawrn-swog-uhl], verb (used with object), to mislead or swindle by implying that something is porn when it isn't, esp. using double entendre.
I suspect most of us would be more familiar with the opposite scenario.



No money? Votes for this site are good as gold!


(C)2012, 2011, 2010, 2009, 2008, 2007, 2006, 2005 NSFW Comix LTD.