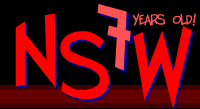 August 19, 2012 - Barn













A nice long epic to make up for all the updates I'm going to miss this month, ha ha. No but seriously.
Fun factoid: Barney the Burger Barn Bumpkin is a mascot character I made up in 2008 but didn't have a good opportunity to put into a NSFW comic until now. Maybe you'll see more of him...?



No money? Votes for this site are good as gold!


(C)2012, 2011, 2010, 2009, 2008, 2007, 2006, 2005 NSFW Comix LTD.