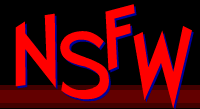 October 1, 2011 - BLU-Ray Team loses











I predict that in the future, Star Wars movies will automatically download & install their updates. That way, not only would it be more convenient for everyone, but Lucasfilm would finally be able to completely control the series and make sure that everyone gets to enjoy the upgrades and never has to go back to the inferior versions, and everyone would be so happy. Just like Facebook.



No money? Votes for this site are good as gold!


(C)2011, 2010, 2009, 2008, 2007, 2006, 2005 NSFW Comix LTD.