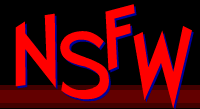 May 10, 2011 - Do you remember the days...










This is quite possibly the only internet comic involving "floor is lava" that doesn't actually involve the floor being lava. I know. I'm a real paradigm-shifter here. Pushin' those boundaries comes naturally to me. Outside of the box is where I do all my thinking. I'm such a rebel, Che Guevara wears a t-shirt with my face printed on it.
Hey you kids, bad news: I've been laid low with a dose of the lurgy and it is unlikely that there'll be another comic before the weekend... unless somebody sends one in. But you're all far too busy photographing your Cuthwald sightings, right? :) Keep them rolling in!
So now "the priest" from NSFW Comix has a (carefully-chosen) name. Will there be more comix about him? Or will he continue to be a supporting character? I mean how many Catholic priest gags can there be (that haven't been done a million times)..?



No money? Votes for this site are good as gold!


(C)2011, 2010, 2009, 2008, 2007, 2006, 2005 NSFW Comix LTD.