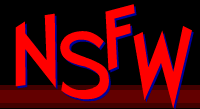 April 6, 2011 - Education for Life










Ahh yes, Ookie Cookie. Soggy Biscuit. Cookies & Cream. Limp Biscuit. Pudding on the Ritz. Whatever you call it, it's one of those contests where it's not whether you win or lose, but how you play the game. The real "winning move", it would seem, is to neither win nor lose.


No money? Votes for this site are good as gold!

(C)2011, 2010, 2009, 2008, 2007, 2006, 2005 NSFW Comix LTD.