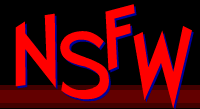 January 16, 2011 - Audience Participation












Disclaimer: This comic is a work of fiction; if the character of Cuthwaldio visually resembles the real person who goes by the name "Cuthwaldio" in the shoutbox, it is purely coincidental. But, Cuthwaldio, if you're not 100% happy with this comic, you are welcome to retaliate in kind. I will even post it on NSFW Comix, because I like a good trolling every now and then.
Now sit tight and get ready for the mind-bending, plot-twisting, Becky-has-a-vagina-ing NSFW Comix Issue #300! Scheduled for next weekend!



No money? Votes for this site are good as gold!


(C)2011, 2010, 2009, 2008, 2007, 2006, 2005 NSFW Comix LTD.