November 7, 2009 - A game!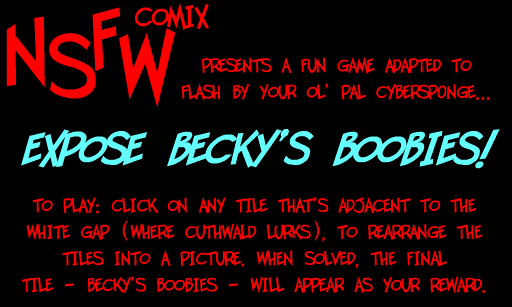 So, you all said you wanted Becky's boobies, huh? Well you're gonna WORK FOR EM! So please enjoy this sexy diversion while we prepare the next NSFW Comic. Thank you.
Please send bug reports to cybersp0nge@yahoo.com.
As for the viewer participation comic, people are still sending in their photos, so I'm putting the deadline for submissions as "the week where nobody sends in any photos". So if you want to be in it, send your photos. And if you don't send photos, then that's my cue to close the submissions box and get that comic done!
COMING UP: Another "viewer participation" comic, like the 200th Update comic! So if you have a camera and you don't mind appearing in a comic that isn't safe for work, head to the forums and read all about it! You don't even have to be photogenic or anything!