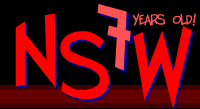 December 16, 2012 - Manly Ham











Moral: The right facial expression can say it all.
'Tis the season, folks! 'Tis the season for fewer updates from me than you might want. BECAUSE PONYZ. Also, 'tis the season for GIVING! So maybe you could GIVE me some fan-comics to publish here? :D I'm sure some of you must have some amusingly perverted ideas that you can draw.
Also I'm preparing a small "update" to this website that should make things more interesting. Not getting rid of anything, just adding something. Your NSFW viewing experience doesn't have to change if you don't want it to. Stay tuned for that!



No money? Votes for this site are good as gold!


(C)2012, 2011, 2010, 2009, 2008, 2007, 2006, 2005 NSFW Comix LTD.