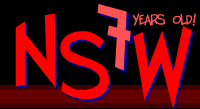 July 28, 2012 - Suit up!











What nefarious schemes is BukkakeGirl hatching in that latex-covered head of hers? tune in next time! Or maybe the time after that, or maybe even later. But tune in!
OH GOD - PONY STUFFZ - All the female roles have closed but a new male "cameo" role has opened up. The role of IRON WILL! Get in quick, guys!



No money? Votes for this site are good as gold!


(C)2012, 2011, 2010, 2009, 2008, 2007, 2006, 2005 NSFW Comix LTD.