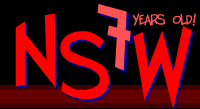 June 7, 2012 - Transitive










Believe me, I was supposed to post this comic on time, but some naughty little scallywag scaled my mansion and cut the internet cable in a somewhat difficult-to-access place (true story), so I had no internets for a few days. Rather than wait another 105 years until I can post the comic for the next transit of Venus, I thought I'd post it late anyway. Enjoy! A large "desktop background" version of the last panel is available for your telescopic viewing pleasure here.
Audition updates! We're gettin' there!



No money? Votes for this site are good as gold!


(C)2012, 2011, 2010, 2009, 2008, 2007, 2006, 2005 NSFW Comix LTD.