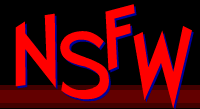 May 13, 2012 - Bye, Maurice













R.I.P. Maurice Sendak (1928-2012)
Parody sauce: In The Night Kitchen and Where The Wild Things Are.
After making this longish comic and with the 7th anniversary of NSFW coming up I'm a little behind (GOATSE!!!) in getting back to people regarding their auditions. Thank you all for being patient! :3



No money? Votes for this site are good as gold!


(C)2012, 2011, 2010, 2009, 2008, 2007, 2006, 2005 NSFW Comix LTD.