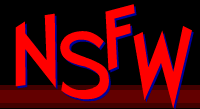 February 6, 2012 - Put some Blingee on your thingy












It's guest-comic season while I work on something else for NSFW that will take more than one week to do.
Or is it? Maybe it's Cuthwald season! Don't go away.



No money? Votes for this site are good as gold!


(C)2012, 2011, 2010, 2009, 2008, 2007, 2006, 2005 NSFW Comix LTD.