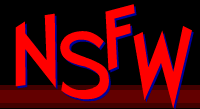 January 15, 2012 - Sculpt the whales









It's been a while since we last did this kind of thing!
If you cannot view the Flash movie above, please RIGHT-CLICK HERE (you can't just leftclick, sorry one-button mouse-users) and the save file to your computer.
***
Regarding NSFW Pony Parody Auditions: Visit the forum thread here for examples of voicework from the show.
Send your auditions here please.




No money? Votes for this site are good as gold!

(C)2012, 2011, 2010, 2009, 2008, 2007, 2006, 2005 NSFW Comix LTD.