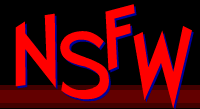 May 22, 2011 - Oms and noms













Hey, it's a been a while since we saw Spatula and Grant actually up to their usual tricks at Burger Barn. I hope you like where this is going...
Keep up the Cuthwald Sightings, people! :) Not long to go now!



No money? Votes for this site are good as gold!


(C)2011, 2010, 2009, 2008, 2007, 2006, 2005 NSFW Comix LTD.