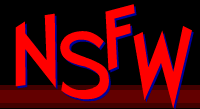 March 23, 2011 - Trekkie Birthday to you!












Yesterday was William "AKA Captain Kirk" Shatner's birthday and he turned 80! This comic is no exaggeration of how awesome he is. And one day later from his birthday I am sure that he is still every bit as awesome if not moreso. Shatner's historic contribution to television, popular culture, and - as many nerds of previous generations will agree - unpopular culture in and outside of Star Trek is nothing short of staggering for one mere mortal. Here at NSFW Comix we are somewhat doubly-indebted to Shatner's influence on society, because were it not for the popularity that he (along with his fellow actors and authors, it must be noted) brought to the sci-fi genre, there would be significantly fewer nerds in existence today, and thus fewer people reading my comic. Thank you, William.
NSFW Comix accepts no responsibility for damages caused from attempting to use the pickup line demonstrated in today's comic.



No money? Votes for this site are good as gold!


(C)2011, 2010, 2009, 2008, 2007, 2006, 2005 NSFW Comix LTD.