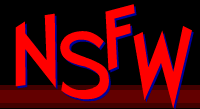 March 6, 2011 - Grant, but no Psymantha this time...












Careful, boys! You'll go blind if you keep playing with it!
Special thanks to Kitty Commando who, once again, has provided the comic for today. And it's featuring one of her *original* characters, namely Cliff!
I ran out of time to finish my comic for today, so it has been postponed to Hump Day.



No money? Votes for this site are good as gold!


(C)2011, 2010, 2009, 2008, 2007, 2006, 2005 NSFW Comix LTD.