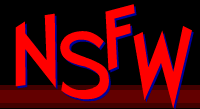 February 9, 2011










Why the wiggly text in the last panel? This is CAPTCHA text, a distorted pair of "words" randomly selected from a large collection of scanned texts and used by websites to automatically test if a person using their site's applications is a genuine human capable of reading distorted text, or a heartless robot that has been told to go forth and spam up all the websites it encounters.
Mostly, CAPTCHA text forms nothing but strings of gibberish, or sometimes words that don't seem to match each other in any logical way. So if somebody uses accompanying imagery to MAKE seemingly nonsensical CAPTCHA text into something that makes sense in context, then what they have created is known as CAPTCHArt.
I hope you enjoyed this example of NSFW CAPTCHArt, because there will be more! Browse the amusing artwork on www.CAPTCHArt.com for some more hilarious examples.



No money? Votes for this site are good as gold!


(C)2011, 2010, 2009, 2008, 2007, 2006, 2005 NSFW Comix LTD.